2024 Dodge Hornet Features
If you've been captivated by the performance and aesthetics of the Alfa Romeo Tonale, the 2024 Dodge Hornet provides a strikingly similar experience with a more accessible price point. Along with the same plug-in hybrid powertrain as the Alfa, the Dodge Hornet also has a non-hybrid option that delivers 268 horsepower with all-wheel drive across all trims. With cutting-edge technology, exhilarating performance, and sleek design, the Dodge Hornet offers a thrilling driving experience that mirrors the Alfa Romeo Tonale while giving you plenty of bang for your buck.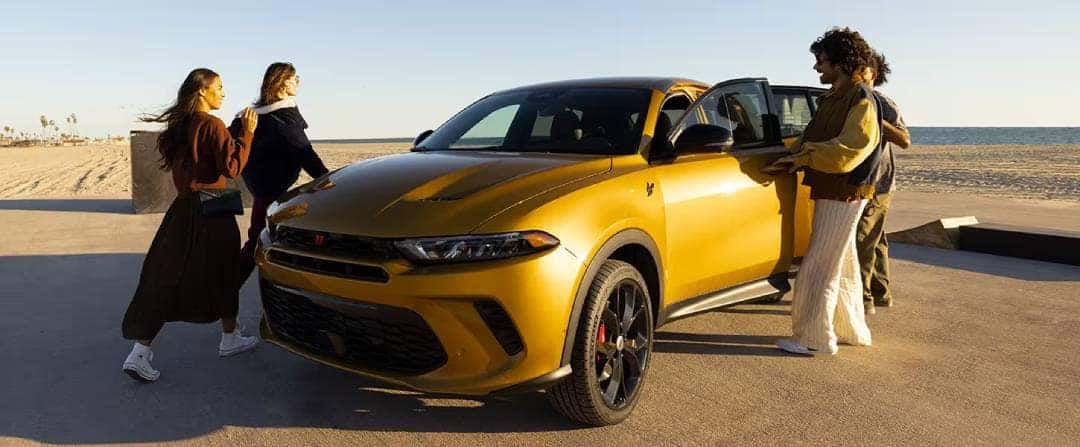 Performance Unleashed: Power and Precision
Whether you opt for a turbocharged four-cylinder or an eco-friendly hybrid powertrain engine, the 2024 Dodge Hornet delivers a dynamic driving experience that rivals the Tonale's responsiveness. Nimble handling and precise steering further elevate the connection between driver and machine. From a potent non-hybrid engine to an innovative plug-in hybrid system, the Hornet's engineering prowess promises to redefine your driving experience. When you choose a 2024 Dodge Hornet, you have a choice between two powertrains across four trim levels.
Dodge Hornet GT: Where Performance Thrives
At the heart of the Dodge Hornet GT lies a formidable powertrain engine paired with a nine-speed automatic transmission. This non-hybrid variant is powered by a turbocharged 2.0L Hurricane4 Turbo engine that generates an exhilarating 268 horsepower and a whopping 295 pound-feet of torque. With this robust engine under the hood, acceleration becomes a surge of adrenaline, and the open road transforms into a playground for power enthusiasts.
The GT can reach 60 mph in just 6.5 seconds while maintaining 21 mpg in the city and 29 mpg on the highway (26 combined mpg). Activate Sport Mode from the steering wheel button to reveal this stinger's incredible handling. With its track-tuned suspension and precision steering, the Dodge Hornet GT trim is tailor-made for those who relish the pure joy of driving. The GT Plus trim amplifies the GT's sophistication with a variety of upgraded features, such as full leather seating, heated front seats, an impressive sound system, and a power sunroof.
Dodge Hornet R/T Plug-In Hybrid: Electrifying Performance Meets Efficiency
The plug-in-hybrid R/T model joins the lineup for 2024, boasting a 288-horsepower powertrain and a 12.0 kWh battery pack that delivers 30-plus miles of all-electric driving. With state-of-the-art hybrid technology, this powertrain blends a turbocharged 1.3-liter four-cylinder engine with the eco-conscious benefits of electricity. Precise engineering allows the electric motor and internal combustion engine to work together seamlessly, resulting in a refined and smooth driving experience and impressive fuel efficiency. The EPA has yet to rate it, but it's expected to be much more efficient than the GT at 60 mpg combined.
The Dodge Hornet R/T plug-in-hybrid has a six-speed automatic transmission, seven available performance features, and unlocks bursts of 30 horsepower in PowerShot mode. The plug-in-hybrid system boasts a top speed of 128 mph and can reach 60 mph in just 5.6 seconds. The R/T Plus plug-in-hybrid trim further integrates the plug-in hybrid concept by incorporating upscale features and technology, such as a power sunroof, wireless charging pad, and a premium audio system with 14 speakers and a subwoofer. Revel in an opulent interior and cutting-edge driver-assistance systems while enjoying reduced emissions and increased fuel efficiency.
Aesthetic Brilliance: Design That Captivates
The 2024 Dodge Hornet is sleeker than traditional compact SUVs. Drawing inspiration from its more expensive counterpart, the Alfa Romeo Tonale, the Hornet exhibits similar design cues that emphasize elegance and dynamism. Striking LED headlights, a bold grille, and sculpted lines all contribute to an aura of sophistication reminiscent of the Tonale's distinctive style.
You may recognize the same techno leather steering wheel as the one you'd find in the Alfa Romeo. This one has the Dodge logo embedded in the center. Black upholstery lined with red stitching comes standard in the base trims, while the GT Plus trim comes with leather. Overall, the Hornet's design captures attention with its athletic stance and aerodynamic profile, aligning seamlessly with the captivating aesthetics of the Alfa Romeo Tonale.
Generous Standard Features
There's plenty of new tech to uncover in the 2024 Dodge Hornet with a host of desirable standard features, such as a large 10.3-inch touch-screen infotainment display that's compatible with wireless Apple CarPlay, Android Auto, and Amazon Alexa. The SUV's 17-inch aluminum wheels, all-season tires, heated exterior mirrors, rain-sensitive windshield wipers, automatic dusk sensor, and dual-zone automatic climate control keep you safe and comfortable no matter the driving conditions. Watch yourself go from zero to 60 mph on the impressive 12.3-inch driver information digital cluster display.
An illuminated map pocket, privacy glass, and a six-way manually adjustable driver seat make all journeys a joy. While the standard features certainly go above and beyond what you'd expect from a base SUV, there are plenty of additional available features to look forward to in the GT Plus and R/T Plus trims. Upgrade to the premium trim for a Harman Kardon premium audio 14-speaker system and a wireless smartphone charging pad.
Top-Of-The-Range Safety Features
A generous host of driver-assistance features come standard with the 2024 Dodge Hornet when you purchase from Meadowland of Carmel, including automated emergency braking with pedestrian and cyclist detection, traffic sign recognition, intelligent speed assist, and active driving assist. Other features include drowsy driver detection, a 360-degree surround view camera, front park sensors, forward collision warning with full stop, blind-spot monitoring with rear cross-traffic alert, and adaptive cruise control with stop and go.
Ready For a Test Drive?
To get the best driving experience on a budget, the Dodge Hornet has a whole new look and is a fantastic option for the compact SUV class. From the non-hybrid model's invigorating 268 horsepower to the plug-in hybrid's commitment to efficiency, the Hornet offers an affordable alternative to the Alfa Romeo. Whether you're drawn to the adrenaline-pumping performance of the non-hybrid variant or the greener hybrid technology, the Dodge Hornet caters to all drivers. Contact Meadowland of Carmel CDJR for more information and to book a test drive today.