2023 Jeep Wrangler – Features & Specs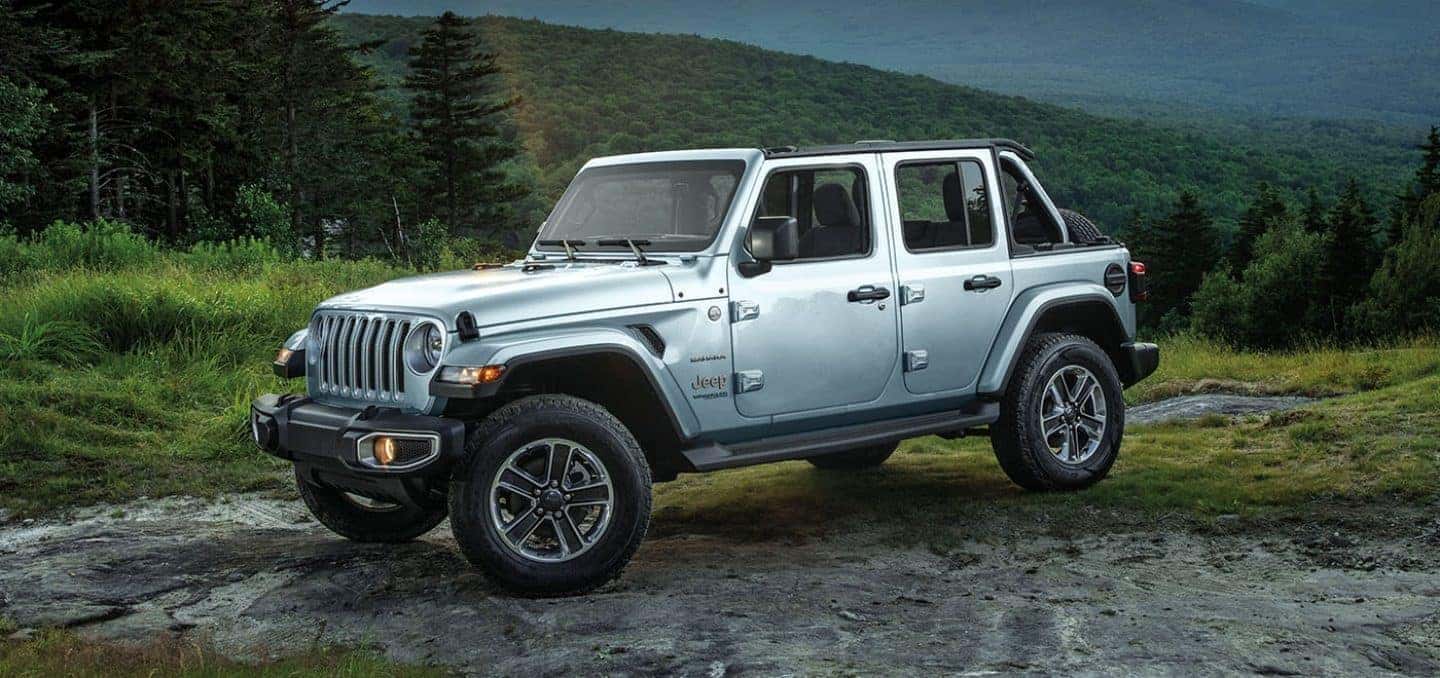 2023 Jeep Wrangler
New York drivers in the market for a crossover with incredible off-roading abilities can find what they're looking for with the 2023 Jeep Wrangler. With a range of customizable options and a removable top, it's the ideal vehicle for an adventure off the beaten track.
Check out the Jeep Wrangler models we've currently got in our online inventory or contact our auto experts here at GMC of Carmel to learn more.
2023 Wrangler Trims and MSRP
Choose from seven trims when you purchase a Wrangler from our Carmel showroom: Sport, Willys Sport, Sport S, Willys, Sahara, Rubicon, and Rubicon 392.
Some of these trims are only available as four-door Wranglers, while others offer both two- and four-door options. Let us help you find the perfect combination to suit your budget and lifestyle.
The final MSRPs for the 2023 lineup are still being finalized, but we expect them to be similar to the 2022 model. The starting MSRP for the 2022 Wrangler was $29,725. The Range-topping Rubicon 392 had an MSRP of $74,800.
Sport S
The Sport S trim includes power windows, optional heated front seats, and a heated steering wheel. The Willys trim gives you the option to upgrade to 35-inch all-terrain tires.
Sahara
The Sahara trim is the first to offer the 4Z hybrid powertrain option. You also get the larger 8.4-inch infotainment display, the Wi-Fi hotspot, and the household power outlet.
If you plan to push the Wrangler's off-roading chops to the limit, there's no doubt that the Rubicon trim is the best choice. It offers several off-roading upgrades, such as rock sliders, heavy-duty shock absorbers, and locking front and rear differentials.
Rubicon 392
The range-topping Rubicon 392 adds a hard top, leather upholstery, and heated front seats. You get that big V-8 engine for all the power you desire. The Rubicon 392 is only available as a four-door Wrangler.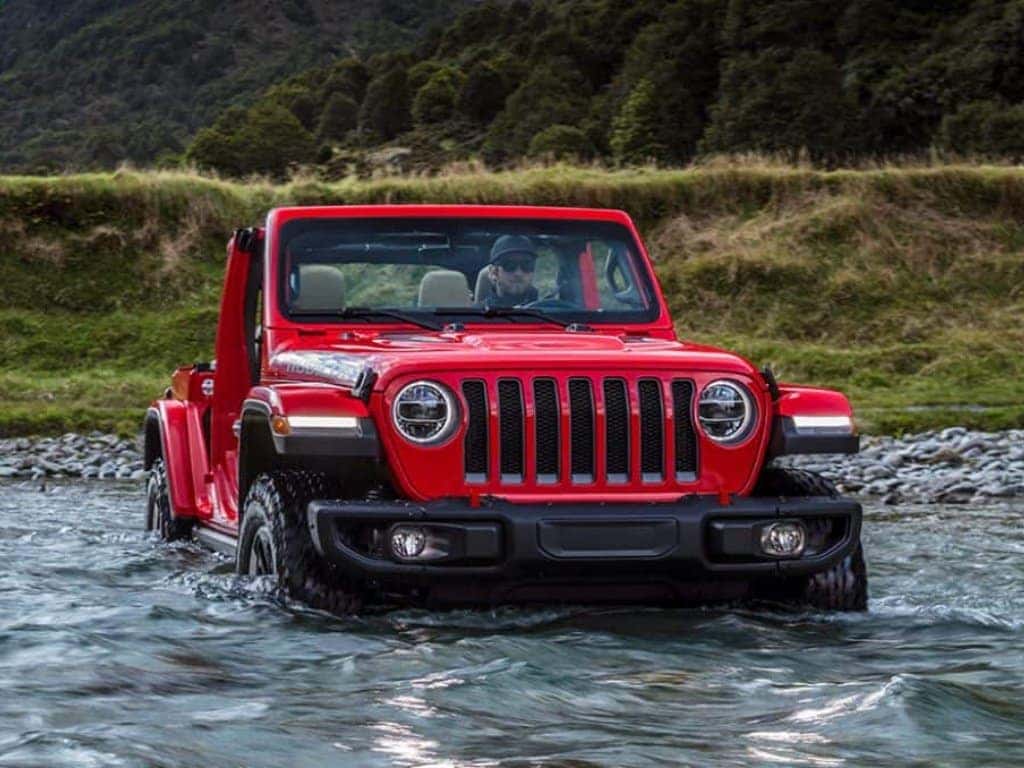 Jeep Wrangler Exterior Design
Since you can customize the Wrangler to meet your needs and desires, its exterior can look very different depending on your tastes. You can choose from four-door and two-door models, and you can remove the roof and doors to enjoy a raw off-roading experience.
As you'd expect from an off-roading champion, all Wrangler models are fitted with skid plates. You can also opt for huge 35-inch all-terrain tires to complete your crossover's rugged appearance.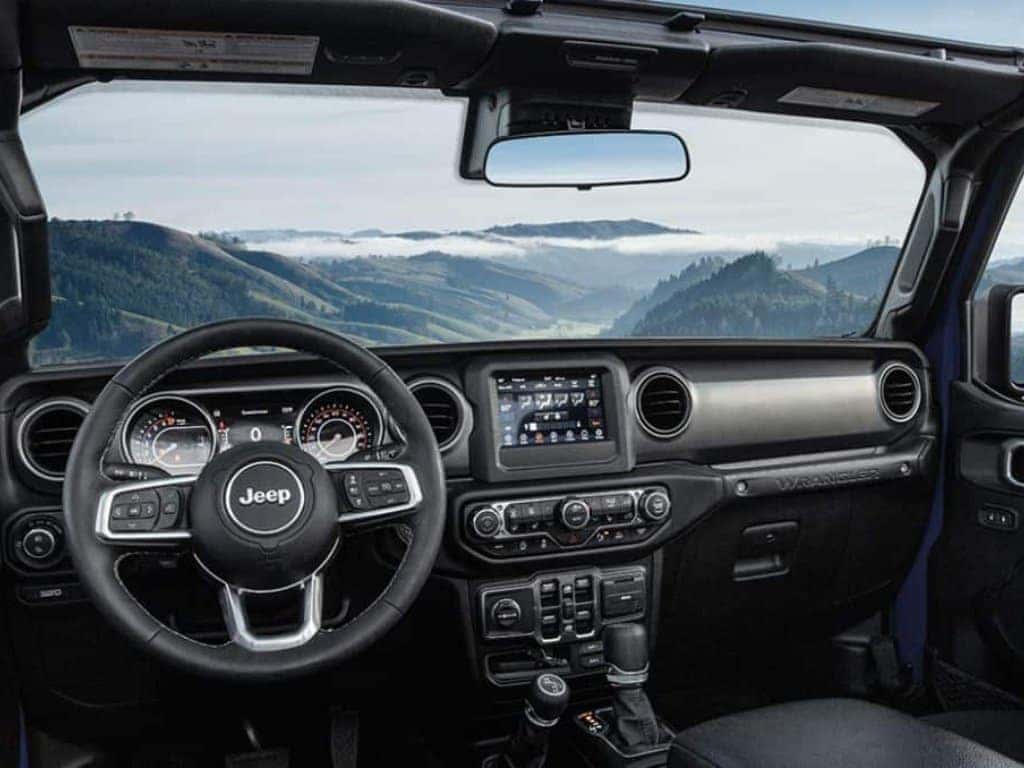 2023 Wrangler Interior
Inside the Wrangler, the first choice you'll need to make is whether you want a two-door or four-door setup. The two-door Wrangler has room for four people to ride in the cabin. However, the rear seats are compact and best left for kids on long drives. If you plan on regularly having adult passengers in the second row, you'll probably want to opt for the four-door configuration, which is known as the Wrangler Unlimited.
One advantage of the two-door version is that the Wrangler is about two feet shorter than the four-door model. This more compact design can make it easier to maneuver in a parking lot or on rough trails.
Four-door Wranglers have considerably more cargo capacity at the rear, with around 31 cubic feet of space behind the second row. The two-door version has about 12 cubic feet of storage space.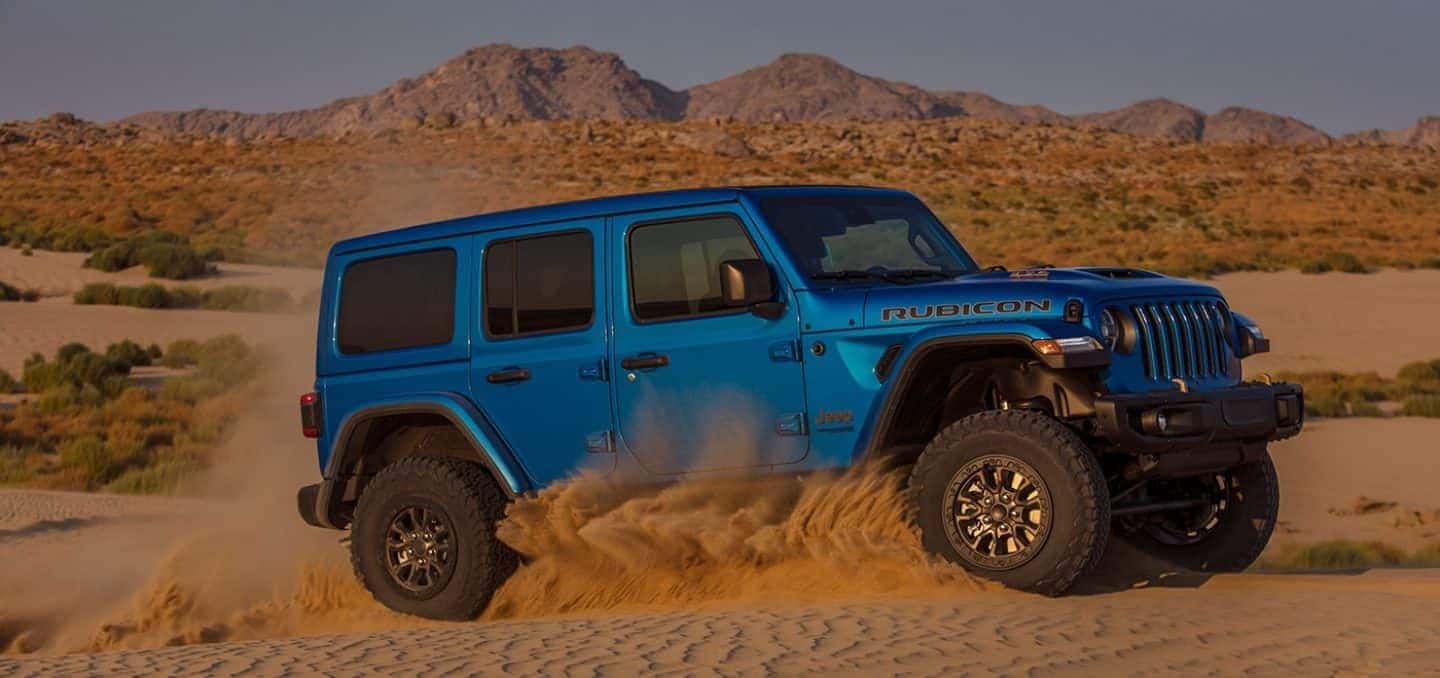 2023 Jeep Wrangler Engine and Performance
There's hardly another vehicle on the market that offers such a wide range of engine and transmission configurations as the Wrangler. You can choose from five gas-powered engines, or a plug-in hybrid setup for improved fuel efficiency.
The base engine is a 3.6-liter V-6 that puts out 285 horsepower. You can choose from a six-speed manual or eight-speed automatic transmission to complete the power train. A turbocharged four-cylinder engine that cranks out 270 horsepower is the first upgrade on offer. The second is a 3.0-liter turbodiesel unit capable of achieving 260 horsepower.
The most powerful gas engine in the lineup is a massive 6.4-liter V-8, which churns out 470 horsepower and is available with the Wrangler Rubicon 392. The sixth power train option is the Wrangler 4Z, which has a maximum output of 375 horsepower thanks to the turbocharged four-cylinder engine and two electric motors. The 4Z has an all-electric driving range of 21 miles.
With this wide range of engine options, you won't be surprised to hear that the Wrangler's gas mileage varies considerably. You can get up to 29 mpg on the highway with the six-cylinder turbodiesel engine. If you choose the big V-8, you'll get 13 mpg in the city and 17 mpg at highway speeds.
Wrangler Tech Features
The Wrangler's infotainment system is called Uconnect. It's available with three displays: a 5-inch, 7-inch, or 8.4-inch screen. The Wrangler has an eight-speaker stereo, Bluetooth connectivity, and USB ports in its base setup.
In addition to the larger infotainment displays, you can upgrade to smartphone compatibility with Apple CarPlay and Android Auto. For those of you planning to spend a lot of time off the beaten track, you should consider adding the optional Wi-Fi hotspot and household power outlet, which can help you stay connected and keep your devices charged wherever you go. A navigation system and satellite radio are also on offer.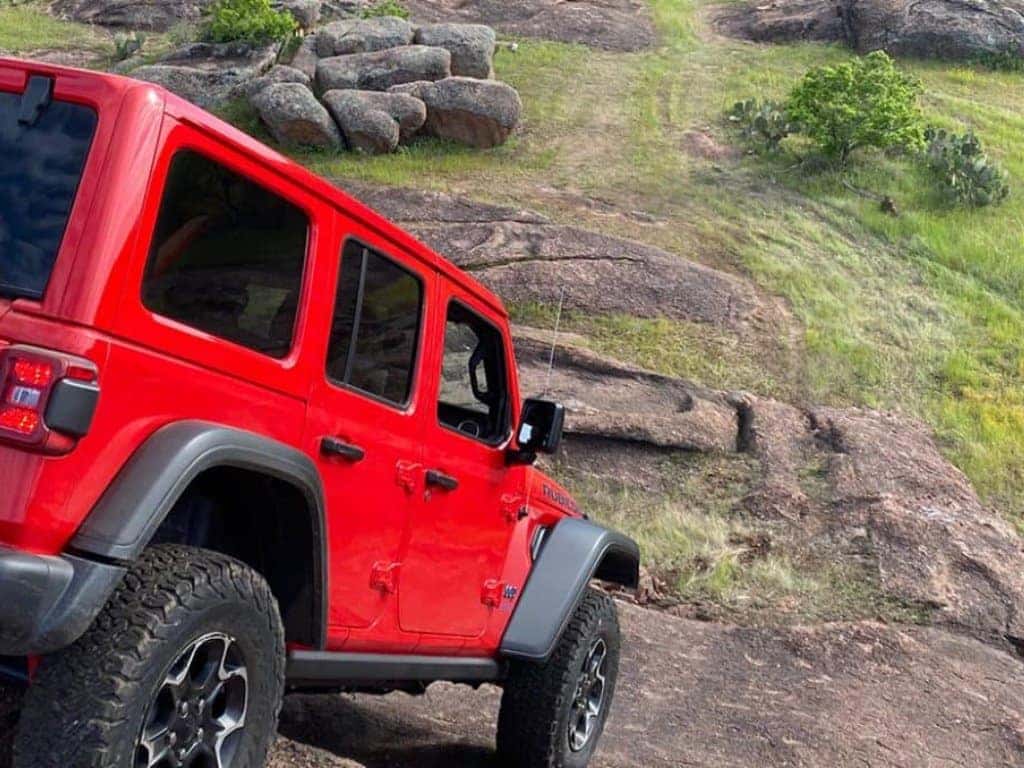 Jeep Wrangler Safety
Jeep offers several notable safety features for the Wrangler, which can improve parking, off-roading, and highway driving. You can opt for rear parking sensors and rear cross-traffic alert, which makes parking and maneuvering in tight spots a breeze. Adaptive cruise control adjusts your speed automatically on the highway so you can maintain a safe distance from other drivers up ahead. To help you avoid accidents, you can add forward-collision warning and automatic emergency braking.
The optional forward-facing camera can come in handy during off-roading expeditions, giving you a clear picture of the terrain.
If you have any questions about the Wrangler's features or trims, don't hesitate to reach out to us. Here at GMC of Carmel, we have a team of auto experts that knows Jeep's vehicle lineup inside out. We'll happily walk you through the Wrangler's optional off-roading upgrades or engine lineup. Alternatively, we can arrange a test drive for you so you can see how amazing it feels to get behind the wheel of the 2023 Wrangler before you commit to a purchase.