Welcome to
Meadowland of Carmel
Welcome to Meadowland of Carmel. Our roots in the community are deep; for over four decades, we've been the local go-to for Chrysler, Jeep, Dodge, and Ram vehicles. We started as a humble family-owned business in 1972, founded by William Volz, and have since thrived under the stewardship of Kenn Volz. What's our secret? A steadfast dedication to our community and a commitment to offering friendly service and top-notch quality in all we do.
Contact UsValue Your Trade-InSearch Inventory
Impressive Vehicle Inventory
Our massive inventory features an impressive selection of new and used vehicles, continually updated to ensure we meet our customers' diverse needs. We offer personalized financing solutions, helping you secure the best possible deal for your unique situation. Our trusted auto technicians are on standby to ensure that your vehicle remains in optimum condition. While we respect the basics, we also recognize the importance of embracing new technologies.
That's why we offer a comprehensive virtual dealership experience, allowing you to browse our vehicles, and explore incentives, service specials, and parts savings, all at your convenience. With access to a vast network of affiliated dealers, our inventory extends beyond our lot, offering you a continually rotating selection of over 500 models.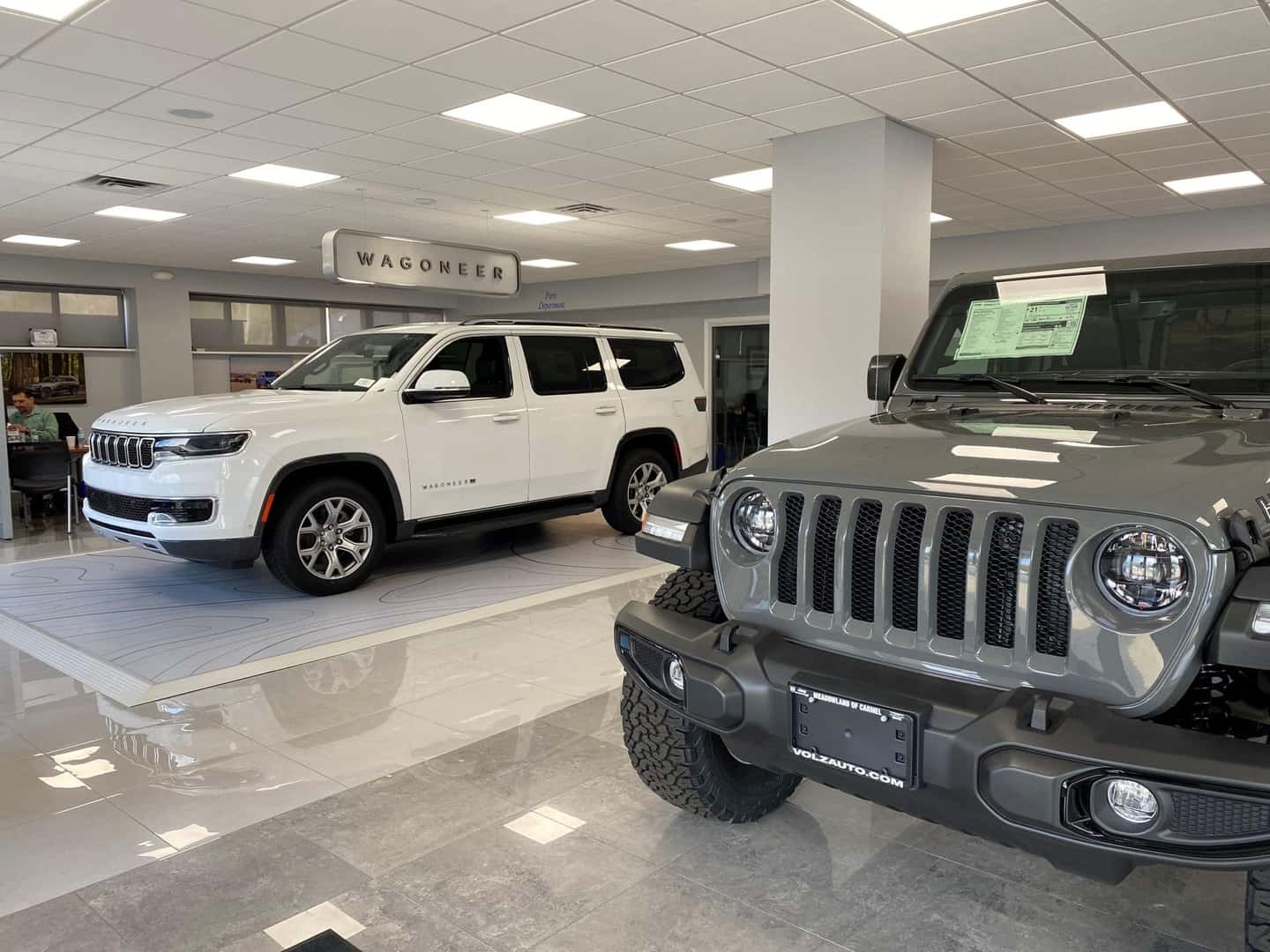 Discover Exceptional Vehicle Specials
At Meadowland of Carmel, we believe in providing extraordinary value to our customers. This commitment extends to our ever-evolving roster of vehicle specials. We aim to make the journey of owning your dream car, be it a Chrysler, Jeep, Dodge, or Ram, both exciting and accessible.
New Vehicle Specials
Our new vehicle specials offer an incredible opportunity to drive off the lot in the latest models without breaking the bank. Whether it's a rugged Jeep Cherokee for your off-road adventures, a spacious Dodge Durango for that morning commute, or a hardworking Ram 1500 for your business needs, you'll find an exceptional deal waiting for you. These specials could be anything from reduced APR and rebates to cashback offers and leasing specials, and they're designed to make acquiring your brand-new vehicle easier and more affordable.
Preowned Vehicle Specials
Don't miss out on our preowned vehicle specials if you're on the hunt for quality at an unbeatable price. Each vehicle in our preowned inventory has been thoroughly inspected to ensure that it meets our high standards of quality and reliability. Our pre-owned specials span a variety of makes and models, providing you with a broad spectrum of choices. These specials can offer significant savings, reduced prices, and fantastic financing rates.
Financing Made Easy
At Meadowland of Carmel, we understand that time is valuable. That's why we offer a convenient online financing application to expedite the car-buying process. Simply fill out the form with your information, and our finance experts will review it and get in touch with you. The application is completely secure, and your information will be kept confidential. Start your journey toward owning your dream vehicle today by applying for financing with Meadowland of Carmel.
Value Your Trade-In
If you're considering trading in your current vehicle, our online trade-in valuation tool can provide a preliminary estimate of your car's value. All you need to do is enter some basic information about your vehicle, such as its make, model, year, and condition. This tool can be a valuable starting point for understanding your budget and deciding on your next vehicle purchase. Please note that this is an estimate, and the final trade-in value will be determined after a full inspection at our dealership.
Monthly Car Payment Calculator
Understanding your budget is a crucial step in the car-buying process. Our monthly car payment calculator can help you estimate the monthly payments for your new vehicle. You'll need to input the price of the car, your down payment, the interest rate, and the term of your loan. This tool can help you adjust your budget and explore different financing scenarios, providing clarity on how different variables affect your monthly payment.
Our finance team works with a wide range of lenders to secure competitive rates and terms. In addition, we often have special financing rates and incentives on certain models. Visit our dealership or contact our finance department to learn more about how we can help you finance your next vehicle.
World-Class Service Team
Our reputation for consistent, high-quality service has earned us recognition, including the Five-Star Dealer award from Edmund's and inclusion in the GM Standards for Excellence program. We owe this success to our loyal Carmel community, whose unwavering support has been instrumental in our growth. Our team of world-class technicians, many boasting decades of experience and multiple certifications, are passionate about ensuring your vehicle works at its best. Whether you're looking for repairs or upgrades, you'll find everything under one roof at our advanced body shop. Here's what makes us stand out:
Expertise and training: GMC-certified technicians have been trained by the manufacturer. They understand every detail and specification of your vehicle, which ensures your car is serviced accurately and efficiently.
Genuine parts: Meadowland's service team uses only genuine GM parts when servicing your vehicle. This means that any replaced part will be of the same quality as the original components of your vehicle.
Advanced tools and technology: With access to the latest tools and diagnostic equipment designed specifically for your vehicle, the service team can quickly identify any issues and fix them effectively.
Comprehensive services: From routine maintenance, such as oil changes and tire rotations, to more complex issues involving the engine, transmission, or electronics, Meadowland's GMC-certified service team can handle a wide range of services.
Warranty adherence: Since they follow all the manufacturer's guidelines, servicing your vehicle with Meadowland's GMC-certified technicians ensures that your warranty remains intact.